OPEN & CLOSE SIGNS Categories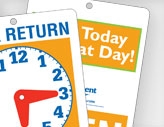 Results 1 - 4 of 4
Show: Items Per Page
Dry Erase Store Hours Sign allows the hours of operation to be written on with dry erase pens. Print on the back side and have a different message whether coming in or leaving the retail shop.

Hours of Operation Sign has 2 pieces of double sided tape attached along with 1 vinyl sheet of numbers (packed bulk). Large advertisement area as patron leaves shop and an advertisement and hours of operation as they walk into shop.

Slide the jacket to one side or the other so customers know if the store is open or closed. Whether inside the shop or outside, advertising is clearly visible.

Open/Close Clock: One side displays large imprint with "OPEN" and the other side displays a clock with movable hands to indicate when the store will reopen. Imprint on this side also! Any retail door plus motels and other hospitality chain store...
Results 1 - 4 of 4
Show: Items Per Page