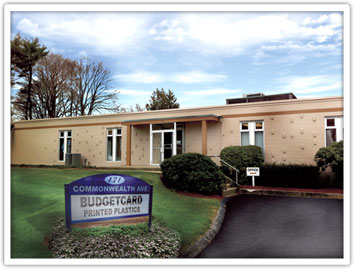 The year 1985 marked the birth of Budgetcard, Inc. Paul Roche, founder, started Budgetcard as a card manufacturer. He produced cards very economically, very fast and never disappointed a customer!  Customer Service, quality and reliability were the cornerstone of Budgetcard.
Paul Roche was joined by his brother, Mike and years later, Paul's son, Chris, became the third partner.
1995 saw many changes, headed up by Chris. Budgetcard became a full service rigid, flat vinyl, custom designed manufacturing facility. In addition to silk screening, Budgetcard began offset printing, followed by four color process printing.
Competition is what keeps Budgetcard continuing to strive for better, faster and more economical ways to produce product. Customer Service (from the front office all the way through the company) is top notch and is the reason for our A+ rating with SAGE and 5 rating with ESP.
Budgetcard supports the Promotional Products Association with employees serving on committees and boards. We also stay involved in our community, supporting the Little League and being involved with different inner city programs involving children.
Going into year 2000, Chris bought his father's share of the business and became sole owner in 2005 after buying his uncle's share.  Digital printing presses were purchased shortly thereafter. 
Chris continues to invest in equipment and people; positioning the company for continued steady growth.  COVID was a temporary set-back, but with reaffirmed commitment by all here at Budgetcard, we were able to take a huge deep breath and start again with that steady climb back.  Our USA manufactured product line enables us to offer our products without fear of inventory issues (with the exception of our MAG-20).
We are dedicated to provide quality service and quality products we would expect to receive personally.  We value our employees, customers and vendors knowing each is important to our success.  Commitment, integrity and honor is what we aim for daily in our business and in our personal lives.