HOSPITAL BADGES Categories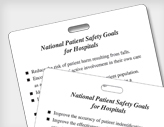 Results 1 - 8 of 8
Show: Items Per Page
Patient Goal badge is worn underneath the hospital employee's ID tag to remind hem/her of their commitment to the patient.

Standard information of what's expected to be done in the event of a fire is what's on this tag, which lays behind their ID Badge.

Since there is nothing standard within the healthcare industry, regarding Emergency Codes/Colors, hospital employees must wear this badge which is usually behind their picture ID Tag. Basic design is 4 color process to indicate different colors...

Personalized pictures and information on ID badges are terrific programs to round out your business. If your client is interested in an ID Badge without a picture, please refer to ID-30 which is less expensive

New Badge Mate is designed to hang below the ID badge. Clearly shows which department the employee is from. Very easy to recognize.

New Badge Mate is designed to go underneath hospital employees' ID badges in order to identify their department quickly by other employees.

ID Badge with variable data include on one side. Variable data is for copy only..If you are interested in a Picture ID Tag, please refer to ID30-P.

Badge Mates (UV coated) reminding all of an up-coming or on-going event, such as flu shots, CPR classes, etc. This inexpensive badge goes behind the ID badge and drops below for visibility.
Results 1 - 8 of 8
Show: Items Per Page