MULTI-YEAR CALENDARS Categories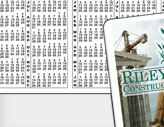 Results 1 - 3 of 3
Show: Items Per Page
Jumbo Calendar Cards guarantees your client's message to be seen every day. Calendars are terrific programs; repeating year after year! By the way, on an average, the calendar will be seen ten times per day in the office; the positioning of a...

Multi-Year Calendar standard set up is 4 colors and imprint on one side and holidays for each year along with imprint on the other side. Perfect fit for a #10 envelope.

Standard Multi Year Calendar Booklet is perfect for the event planner, hotel, convention center- any company promoting their service to those planning 2, 3 or 4 years out. Convenient size fits into a day planner or note book for easy reference. By...
Results 1 - 3 of 3
Show: Items Per Page