TESTICULAR & PROSTATE SELF EXAM CARDS Categories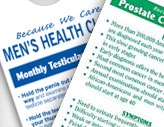 Results 1 - 3 of 3
Show: Items Per Page
Back contains stock Prostate Awareness and Preventative information. Front area is for imprint. Also available is stock Testicular information on the front along with an imprint. Available on .015.

Testicular Self Exam is key to beating Testicular Cancer in addition to having annual doctor appointments. This is available in English and Spanish. It is also available with English on one side and Spanish on the other side. As long as camera...

Up to date stock designed BSE and TSE combination hang tags with your client's imprint on both sides! Perfect for National Cancer Prevention Month (April).
Results 1 - 3 of 3
Show: Items Per Page