Liquid Crystals Categories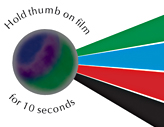 Dolly The Tubby Tester is our stock designed Tub Temperature with Crystal which hangs on the door knob or in the tub area. This is back up to the elbow test. Children's Hospitals, Pediatricians, Family Services, etc. are your targets! Custom...

Thicker, .030 laminated plastic Mood Cards and Stress Cards! Higher perceived value. Design your own (mood or stress card) for that up-coming event. No difference in price or production time. If being used as a custom designed stress testing...

stock puppy designed tub tester card which is designed to test bath water in conjunction with elbow testing. Over-laminated .030 plastic card is durable and does give a higher perceived value. The stock design is also available in Spanish. Custom...

UV Detector Card is on .030 laminated plastic for durability and higher perceived value. The UV paint on the card will change color with the intensity of the UV rays from the sun! Great reminder to apply sun screen. Add a punched hole and beaded...

Stress Key Tag combines two items into one - plastic key tag and a plastic stress card. 4" Ball Chains or 1' Split Key Rings provided at no charge upon request and shipped in bulk. Custom design is the same price and has the same production as long...

Wider Stress Ruler is perfect for your client's large logo. This item combines 2 items into one - plastic ruler and a plastic card. Custom designs do not affect production time or pricing (as long as complete camera ready artwork is supplied). ...

standard sized stress 6" ruler combines 2 very popular items into one; plastic card and and plastic ruler. Custom design at the same price as long as camera ready artwork is supplied. For stock artwork, see our art template

Dolly The Tubby Tester is a stock designed Tub Temperature Card with a stock Crystal. The card is used in addition to the elbow test when testing the temperature of tub water. Children's hospitals, pediatricians, power companies and family...

Great Health and Safety piece. If the electricity goes out, this piece will let you know when you should become concerned about possible spoiled food. It can hang in the refrigerator, can be taped or simply lay flat. Custom design doesn't affect...

Stress Card with stock design on thicker .030 over-laminated for durability and higher perceived value! Excellent event hand out! Although the Stress Card with a liquid crystal tab is a promotional product, there is validity to it. This was...