HOSPITAL TAGS Categories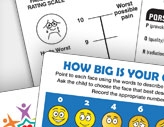 Results 1 - 4 of 4
Show: Items Per Page
Trying to determine a patient's pain level can be difficult at times for medical staff. This visual card simplifies that process.

Dolly The Tubby Tester is a stock designed Tub Temperature Card with a stock Crystal. The card is used in addition to the elbow test when testing the temperature of tub water. Children's hospitals, pediatricians, power companies and family...

Great reminder before leaving the car if there is a very young child in the back. Also, the carrier (holding the rear view mirror hang tag) provides safety tips and education to prevent serious injury or death. Terrific awareness piece given out...

Badge Mates (UV coated) reminds all of an up-coming or on-going event, such as a Blood Drive, Flu Vaccinations, Sanitizing, etc. This inexpensive badge goes behind the ID badge and drops below for visibility.
Results 1 - 4 of 4
Show: Items Per Page