HOTEL TAGS Categories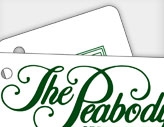 Results 1 - 3 of 3
Show: Items Per Page
Do Not Disturb signs are not only a hotel or hospitality item, but also events of all types showing schedules on the backside - or, totally custom copy on both sides. Now available on .010, .015, .020, .030 and .040! Custom Shapes, sizes and...

Hotel Accessory! Mini Bar Key Tag.

With or without variable data Rear View Mirror Hangers are parking permits used by hospitals, colleges/universities, cities, parking garages and more. Item works for dedicated Essential Workers during Coronavirus/COVID-19 situation.
Results 1 - 3 of 3
Show: Items Per Page