CALENDAR CARDS Categories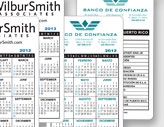 Results 1 - 6 of 6
Show: Items Per Page
Multi-Year Calendar standard set up is 4 colors and imprint on one side and holidays for each year along with imprint on the other side. Perfect fit for a #10 envelope.

Are you planning 2 plus years out? Our Perpetual Wall Calendar is just for you! Current year on front along with an imprint. 14 calendars on the backside along with the code, plus imprint area. Perfect for Court Reporters, Engineers,...

Dry Erase large wall calendar. Reuseable. By the way, on an average, the calendar will be seen ten times per day in the office; the positioning of a calendar will always be a prime spot, 80% chance of reorder and (average order) repeats 8 years!! ...

WALL CALENDAR, Year at a glance. Start off with our stock calendar on the front along with your client's imprint. Backside can feature next year's calendar, technical information, company information-basically, whatever is appropriate for your...

Standard Multi Year Calendar Booklet is perfect for the event planner, hotel, convention center- any company promoting their service to those planning 2, 3 or 4 years out. Convenient size fits into a day planner or note book for easy reference. By...
Results 1 - 6 of 6
Show: Items Per Page