GIFT / LOYALTY CARDS & HOLDERS Categories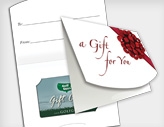 Results 1 - 5 of 5
Show: Items Per Page
Gift Cards are offered in many retail companies. Sell them the first time and watch the reorders come in.

with the integrated hanger on this card, it becomes a point of purchase piece!

Custom design the Gift Card Holder to match the graphics of your Gift Card and add to this professional looking package! This is designed for GC-30

Need Gift Card Holder fast and inexpensive? How about our stock "A Gift For You" card holder which includes a printed red bow. This is designed for GC-30

Economical UV Coated item is designed for retail/counter distribution to hang on a display unit. This item is usually used for a short term promotion/event. General distribution.
Results 1 - 5 of 5
Show: Items Per Page