REPOSITIONABLE CALENDARS Categories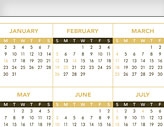 Results 1 - 8 of 8
Show: Items Per Page
Terrific #10 mailer with the crease which is part of this design. Can be placed at the edge of a desk or on the keyboard. Guaranteed exposures! By the way, on an average, the calendar will be seen ten times per day in the office; the positioning ...

COMBOCAL-STIK includes a calendar strip to attach to the desk or computer and a wall year at a glance calendar. Imprint appears on both pieces within the sheet of repositionable vinyl

Repositionable vinyl - leaves no residue once it's removed. Will attach to clean walls, doors, ceilings. Custom designs at no additional charge. Sticks without leaving behind any sticky residue.

Repositionable Mini Wall Calendar. Custom designs do no affect the price. Attach to walls, doors, ceilings. This sticks without leaving behind any sticky residue.

Calendar MousePad is light weight, removable (low profile) desk item, that lays flat against the desk; not taking up any valuable space. Due to the removable low tack feature, this becomes portable by attaching to a laptop. Don't forget,...

Calendars and Rulers make a terrific pair. Combined on our Computer/Desk Strip these 2 commonly used items are always at your fingertips.
Results 1 - 8 of 8
Show: Items Per Page