CALENDARS MISCELLANEOUS Categories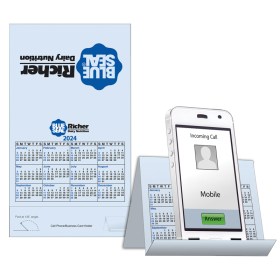 Results 1 - 7 of 7
Show: Items Per Page
Jumbo Calendar Cards guarantees your client's message to be seen every day. Calendars are terrific programs; repeating year after year! By the way, on an average, the calendar will be seen ten times per day in the office; the positioning of a...

This desk calendar ships flat, will fit in #10 envelope and will go through the mailing equipment; making a terrific mailable item for the desk. Calendars are seen many times every day AND have prime real estate placement! The cost for this type...

Repositionable Mini Wall Calendar. Custom designs do no affect the price. Attach to walls, doors, ceilings. This sticks without leaving behind any sticky residue.

Calendar DeskPad/MousePad is light weight, removable (low profile) desk item, that lays flat against the desk; not taking up any valuable space. Due to the removable low tack feature, this becomes portable by attaching to a laptop. Don't forget,...

Newly designed, Deck Caddy! Big imprint which will been seen throughout the day! Ships flat which makes for easy mailing or easy event hand out. Designed with 2 creases and stock directions. Once folded the Desk Caddy will hold letters and...

The ship flat Cell Phone Holder has new lower pricing. It is designed to fit into a #10 envelope and go through the mailing equipment which makes this a perfect mail piece. Once received, follow the directions and fold in 2 places, sit on the desk...

Jot your notes on this Desk Pad with a pencil, erase when finished and use again! Never again lose that phone number, name or note. This standard sized, light weight Desk Pad lays flat against the desk and does not take up any valuable space. ...
Results 1 - 7 of 7
Show: Items Per Page